Here is a nonstandard double trial
What about :
- 8 cylinders, 6.2 liters engine, 445 hp, 495kg for the solo bike
- 8 cylinders, 5.7 liters engine, 385 hp, 780kg for the Trike
Guess what brand I am talking about ?
Here is the trial of the Trike motorcycle and the BOSS HOSS motorcycle
The brand dates back to 1990. Monte Warne, a former plane pilot fond of mechanics, decided to insert a Chevrolet V8 small block engine 5.7 in a made-to-measure handmade motorbike frame and that was the start of the "Boss Hoss" adventure ! Now, the entire production of motorcycles - 200 per year for one and 230 per year for the other one - is completed in the company of Dyersburg, Tennessee for the world.
I have looked up words in the dictionary in order to express my feelings, but no word was strong enough to talk about this trial of the Boss Hoss range. You will understand that we are as crazy as these two bikes, which are the most outstanding on the market now. The distribution of the brand in France is completed by American Bikes Custom & Cars. This firm holds the exclusive rights for the distribution and accreditation of the Boss Hoss bikes.
Riding a Hoss Boss is like riding seated on a good old yankee full of muscles: every acceleration is terrific and stretches your arms out. Needless to say that these two series models are unusual because except from riding a rocket, there is nothing more powerful currently in terms of series motorbikes.
Indeed they are not sportbikes in spite of their power; they are much more destined to trace the way and not only on straight lines, they are made to devour kilometres and that is what I did. This trial was driven by the bestial feeling that goes through you when you are riding this American dream, the pleasure of the V8 block's song, insanity and the pleasure to ride exceptional models.
The Boss Hoss Trike
First, let's talk about the Trike. What better roads than the curvy Settons road and the "Moto Légende" Cup to make this trial ? As it is not submitted to the law about 100 hp, it goes up to 385 hp and reminds you every time you accelerate that its power is not only made to look nice but also to be used and me I did.
Having command over such a power is not to be put in everyone's hands, certainly not ! Getting familiar with this Trike is off-putting, easy and enjoyable on every type of road and whatever you expect from it in terms of speed.
I proved to be as cautious as Taz-like during this trial and in both cases the Trike was flawless. Front braking is purely decorative or only useful when you need the Trike to be balanced in the curves from a certain speed but in this case… the rear brake alone can be used to slow down the Trike and the automatic gearbox is extremely accurate, even in the city "have a look at the video of our parading in Paris".
Its boot capacity is over 200L and calls for long road trips. Its dashboard has nothing to envy a plane cockpit about its design. Have a look at both of these picture, by day and by night.
Last, the sound makes you feel dizzy as kilometres go by, but is not aggressive whatsoever. The V8 block is sweet to the ears and invites you to speed along rather than to lag along on the narrow roads and the other ones.
The number of feelings you could list is so huge that Olivier created Boss Hoss Rental Paris in order to allow all the curious and enthusiast people to rent this Trike for a weekend or more – except in April 2016 when it has already been booked by myself for a second report for a whole week long on the Brittany roads.
The Boss Hoss Motorcycles
Let's go on now with the masterpiece of the trial, i.e. trying a Boss Hoss bike by oneself! You have to deserve this trial so much since the 6.2 L V8 compels respect and is not easy to start off. The incredible reversing torque will call your attention at once since the bike sways every time the handle is rotated. You will need a firm hand in a leather glove to handle the 455 hp from Detroit, which has been the birth place of the V8 for more than half a century! The disproportion of the bike also compels one's respect as it is 2.70 meters long.
Despite its 495kg, once it is on its way the driveability remains enjoyable, even at low speed but you will have to be very careful. However, the manoeuvres when it is stationary are worth intense muscles-development exercises! No sooner the Big Block is started off, you can hear its song, hardly muffled from 8 to 2, and taking into account that the silencer only exists to allow to guide the gases rearwards but in no case to frustrate the forceful dialogue of the engine !
The moving off of the bike inside an underground parking lot will certainly bring you a lot of new friends among your neighbours; as for me I experienced it at 6 AM when I left to do my trial but oh well they have got used to it with me.
The handlebar is about one meter wide, with a 32 litres tank just above the engine, and allows you to admire the V8. Just like on the Trike, this dashboard is impressive. In the right order, from the left to the right: water temperature, oil temperature, speedometer, revolution counter, charge of the battery with, in the middle, a petrol gauge and a gear light – both of them cannot be seen when they are in the sunlight.
The gigantic radiator is often criticised, as well as the ventilator. In my opinion, I think it is part of the whole motorbike where every single thing is disproportionate and that is what gives it a certain appeal.
On a road this bike is so easy to drive that you soon forget you are driving the biggest and more powerful series bike in the world. Its gravity centre is very low too and that helps. Curve after curve it will remind you of slowing down to stay easy to drive and enjoyable, or it will call you to order quickly.
The Boss Hoss bike goes up to 100 km/h (about 65 mph) in 3.6 seconds, and up to 200 km/h in 6 seconds, even quicker than some series Ferrari or Porsche ! By that, I mean that when your are driving flat out, you also leave some tyre material on the ground. Trust me I have had some experience of it during our parade in the Champs Elysées "have a look at the video we made".
Just like for the Trike, Boss Rental Paris allows you to rent one for a weekend or more, this bike has very affordable prices for the type of vehicle it is "just have a look at their website".
A question of consumption now :
- For the Trike, our average consumption was 12 to 14L per 100km (about 65 mph)

- For the solo bike, 9 to 11L per 100km (about 65 mph)
And that was with a moderate speed on road. During a special trial with the Trike we went up to more than 20L per 100km and were saved by the emergency tank.
The most significant memory for me about this trial is that I have met a group of nutty people just like me – Olivier, Thierry and Stephane. That is the reason why I will stand by them during the Moto Légende show 2015 in Vincennes Park and Motorbikes show 2015 at Porte de Versailles.
Video of this éssai
Video of the Across Paris
As for me, I am very much looking forward to a certain week in 2016 when I will do this long-distance trial with the Trike during one week and that I will only perform on small roads, in the cool old way. Also looking forward to 2017/2018, when I might take one for the "Taz Tour", a small Tour of France with my Buddies, from the north to the south, eastwards and westwards.
Let's meet together on the occasion of the next shows and please do not be shy but come and discover the brand.

@ + The Taz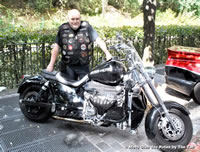 International correspondent Motor Sport