Comparative bags Bagster - Sw-Motech
Bagster, the tank bat leader, presented a few month ago his brand new removable tank bag products (quick lock system) locked directly on the tank cap. I wanted to compare those products. I have to admit that this tank bag was one of my four favourites during the 2015 motorcycle show. (View video)
So here I am in a comparative test between two products ; first we have Bagster with their BAGLOCKER XSR040 a 6L tank bag and then Sw-Motech with their 5L QUICK-LOCK EVO which can tensile up to 9L due to a zipper.
I could also add in this comparison the tank bag GIVI ST602 * TANKLOCK a 4 litres volume with a half-rigid structure, which comes to replace the TPH02 one also 4 litres capacity tank bag we had already tested in 2012 tested in 2012 with our VFR and then joined my 1800 Boulevard and Berthe (R1200GS).
| | | |
| --- | --- | --- |
| | | |
| VFR 1200 | 1800 Boulevard | Berthe (R1200GS) |
I finally choose to test the BAGLOCKER XSR040 and the QUICK-LOCK EVO. The point to highlight is even if the clip bag concept (with quick release system) is the common point between these two products, responding to a huge citizen consumers asking, as it is easy to use, convenient to use and also useful as it's known that there is less and less space below the new motorcycles saddles to receive a disk block, rain pants and other yellow vests... the two brands were on two very different approaches, SW Motech headed for a streamlined design, while Bagster moves towards practical and functional products, a rigid structure and with a benefit of a pocket on too to hold your smartphone.
Before examining the fastening systems, rarely put to the test during a test on this kind of products, which remain with the zipper, the first pieces that break and are also the most vulnerable as a daily use. Now there is the overall results of these two products.
We're starting with Sw-Motech : this product is for motorcyclist in cities who only need the bare minimal. The aerodynamic design gives it a visual lightness and a sporty look, but the lading is limited, it would be really difficult even impossible to put a rain pants in it, the front opening to unlock it makes it challenging sometimes but remains correct.
Moving on to Bagster : this product have a semi-ridgid structure which make it more robust. Its square shape and stiffness support its ability to be more functional and practical, you can fit a rain pants and even more in it; you may also carry a camera instead of having to put it in a backpack, it's a great option especially for quick rides as well as travel.
As I mentioned it earlier the two panniers are not meant to be for long rides you would need a different essential gear, they are meant to be use for short rides.
Before talking prices et telling you who I think deserve to win that contest let's move on to the lock systems that are usually not taking into consideration in that kind of comparative test. They are often the first ones to break because of their daily use.
Even though we're facing two very different type of zippers the result is stunning after more than a 1000 uses, underwater and out of the freezer; because the panniers are used during all types of weather. Bagster's zipper is the winner because of its simplicity however Sw-Motech's was more sophisticated but had a slight trouble regarding the freezing process.
For the tank loops' appearance, I cannot made up my mind so I'll say ex aequo with a little plus for Sw-Motech's fixation.
Let's talk about those zippers, both of them succeeded at the water opening/closing test using great strength or softness, with gloves or without; so it's a draw between the two brands.
Now is the time to talk about the price to finish this contest and give my final score :
The Bagster's set is sold for 158,04 CAD "106.80 €", "117,72 USD" - The BAGLOCKER XSR040 is 133,03 CAD "89,90 €", "99,09 USD" and the BAGLOCKER's plug is 25,01 CAD; "16.90 €", "18,63 USD" - "Recommended retail price".
The Sw-Motech's set is sold for 207,02 CAD; "139.90 €", "154,20 USD" - QUICK-LOCK EVO is 162,70 CAD; "109.95 €", "121,19 USD" and the QUICK-LOCK's plug is 44,32 CAD; "29.95 €", "33,01 USD" - "Recommended retail price".
..* A quick update on the new GIVI ST602 TANKLOCK's pannier the set is 173,73 CAD; "117.40 €" "129,40 USD". The pannier itself is 152,42 CAD; "103.00 €", "113,53 USD" and the TANKLOCK's plug is 21,31 CAD; "14.40 €", "15,87 USD" - "Recommended retail price".
To be impartial I took the Sw-Motech's pannier for multiple rides including the 2016 Bretagne with more than 1988,388 Milles "3200 km" and for the Bagster one I went for a few days in the south of France which was around 1553,428 Milles "2500 km". Knowing that I can easily establish the podium.
Here is the podium between Bagster and Sw-Motech with my different ratings all combine; quality-price ratio, practicality and the use during long rides even though it's supposed to be used on a day to day basis.
Bagster wins this comparison with a 18/20 with its rigid structure, its square design that allows a great load capacity, it can also receive a rain pants and many other things, the price of 158,04 CAD "106.80 €", "117,72 USD", "Recommended retail price" allows it to get that note. A regret concerning the too long red rope BAGLOCKER opening system which would deserve at least a scratch so that it avoids it to parade and maybe adding small nets on the inner walls will be great for next BAGLOCKER 2 in the future.
SW-Motech will get only a 15/20 despite its aerodynamic design that gives it a visual lightness, but giving it a limited loading even in the 9 litres position. Its rate of 207,02 CAD "139.90 €", "154,20 USD", "Recommended retail price" also explains that note. The positive points of this product are its nets on the inner walls and the pressures attachment of the QUICK-LOCK cable opening.
To conclude, these products are good products. It's up to you to make your own choice for daily use, for my own part use Sw-Motech for citizen use and as soon as I need my camera during a report I change for the Bagster so that even the telephoto can enter into with my camera. Dismantling and fixing systems on the tank cap take less than 5 minutes due to their simplicity.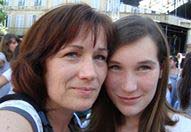 Thanks for the translation to virgine and Elora live from New York