The trial of the TRAVELLER PRO comfort cushion by SW Motech
Here is an article that should have never be finished started in July 2015, I just finished the concluding I will explain why.
The trial of the TRAVELLER PRO comfort cushion by SW Motech was no picnic because I do not have any medical knowledge apart from the comfort it provides. Nonetheless, I come over in the final part of my essay. As an introduction, it's Michel Lemonnier's turn to speak. He is an orthotherapist and posture specialist in Montreal and Paris and tells us about muscle and joint pains related to our posture on a motorbike.
I will then hand over to Isabelle Maillet from Nova Moto through a link to her website that has this item on offer and gives an opinion about it.
Interview with Michel Lemonnier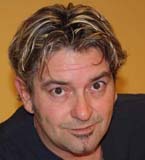 Bruno for Sport Moteur :

Hello Michel, please introduce yourself.

.
Michel Lemonnier :
I have been an orthotherapist and posture specialist in Montrealand Paris since 2005. We have known each other since 1987, i.e. since the time we met in Vincennes and Champs Elysées between 1987 and 1989. I lost sight of you after the accident with your 11Gex in 1989.
.
Bruno for Sport Moteur :
Could you explain to us what your job consist in ?
.
Michel Lemonnier :
Orthotherapy aims at relieving muscle and joint pains that can express themselves as headaches, pains in the back, tendinitis, neuralgia, sciatica, stiff limbs, etc. These pains can be caused by bad postures, abrupt gestures, blows, accidents or a lack of exercise. Posture education is also a big part in orthotherapy.
To maintain or to get a right posture back allows reducing muscle and joint tensions and contributes to well-being. As a whole, orthotherapy intends to re-educate the muscle structure. It helps to make the body supple, to make it more fluid, and to reduce spasms and cramps. It provides more energy and ease to the movements. Orthotherapy is intended to sportsmen as well as convalescing people following an accident or surgery for instance.
Eventually, orthotherapy could improve breathing and blood and lymph circulation, thus helping cleaning the toxins, increasing the rate of nutriments and oxygen provided to the cells.


.

.
Bruno pour Sport Moteur :
Let's go back to motorbikes and other devices such as snow-bikes and quad bikes.
This is the TRAVELLER PRO comfort cushion from SW Motech. It was designed in close collaboration with AIRHAWK®. This cushion is supposed to stimulate constantly the blood circulation, thus avoiding dumbness on a long ride for instance. What is your opinion as a health professional ?


.

.
Michel Lemonnier :
I think this device also has a capability of absorbing shocks and vibrations at the hips, at the pelvis and at the spine but this is not enough to avoid the trauma the spine suffers. It contributes to some comfort but is only part of a whole. Alone, it will only have a masking effect if you suffer from spine troubles or else.
.
Bruno for Sport Moteur :
I will come back to this device I used for more than 4500km later on. In the meantime, what are the risks for bikers on a long ride without this kind of device and a poor posture ?
.
Michel Lemonnier :
First, pains are not inevitable. They often originate from a poor posture and as a consequence it is paramount to do something about it to avoid lumbar arthritis, worn away vertebral discs, etc. Now this device is part of a whole that might avoid some pains as I mentioned earlier, I would advise its use but not only because it will not be efficient alone. It must inscribe itself within a set of measures and will not be a miracle cure on its own !
.
Bruno for Sport Moteur :
Thank you for enlightening answers. Now I would like to mention you have a Facebook profile, a consulting room in Montreal (1600 bd Henri Bourassa Ouest H3M3E3 MONTRÉAL - Québec Canada) and in Boulogne Billancourt (Centre Chirurgical des Princes 31 rue des Princes 92100 Boulogne Billancourt) and that is it very important and useful to see you or one of your colleagues as soon as people feel a pain.


.

.
Michel Lemonnier :
Of course but the most important is about taking preventive action and seeing health professionals specialized in muscles and skeleton trauma.
You have to know that orthotherapy was created in the early 1970's by an American orthotherapist, Dr Arthur Michèle. He first thought it as a preventive method of self-treatment aiming at rectifying the posture of his young patients, fighting their muscular unsteadiness and avoiding surgery.
One of his assistants, Arne Nicholayson added Swedish massage and passive exercises given by the therapist.
This view was introduced in Quebec around 1975.
At that time physiotherapists such as Yves Paré enriched it with the addition of some techniques from Europe. Since then, orthotherapy continued to evolve with the experience of its numerous practitioners.
Let's hand over to Isabelle Maillet from Nova Moto This is the link to her website that has this device on offer.
What stands out in Isabelle's conclusion is that just like many other items by Nova Moto "try it, you'll love it!". Indeed, from the start Nova Moto positioned itself about innovative products. Isabelle spots and distributes new concepts that she tests personally. These products are well targeted and change your daily life as a biker for the best !
What else could you say ?
Well, the true comfort of this product is related to its multiple connecting alveoli that allow a perfect adaptation to your morphology and it is also supposed to avoid pains in the buttock muscles, lumbar vertebra and back despite changes of position to balance pressure points. In my view however, it only delays them and they come back after more than 300km.
It also appears that the quantity of air inside the cushion matters. If it is too inflated you will lose the reality of the road and the osmosis with your bike. In reality, the cushion must not be too much inflated in order to be efficient.
So maybe you will tell me a good saddle made by a saddler could do the job. I would answer YES because the comfort saddles of some brands are good and moreover a stop every 200km does not hurt you or the mechanics. For those who do not have a comfort saddle this might be a good solution because this device can be mounted on any bike. So, if you change your bike you only invest once.
But what if the cushion is pierced? According to our information, SW Motech would stop this product at the end of 2016 and is working on a product that will be entirely labelled under their name. Will this one be equal to AIRHAWK® Shape Fitting and DRY FLOATATON technology? Future will tell. Will it be more affordable in terms of price? Indeed the product I tried, that is the pilot cushion SW Motech traveler pro made of artificial leather costs 258 Dollar US / 345 Dollar CA and the passenger cushion is 135 Dollar US / 180 Dollar CA, which makes it a difficult purchase for quite a lot of bikers.
The cushion I tried is set on a non-slip base that is steady on the saddle but its extensible fixation system that only has a Velcro strip under the saddle (see picture) makes you slightly worried when you park your bike in the street and cannot keep an eye on it. Its adjustment is very easy and can be changed in a blink by unscrewing the small metal valve (see picture) under the zip near the logo. This lock is not secured either, so what if a crafty one robs your cushion ... ?
The only things that stick in my mind are that this product is quite an asset, that it should not be inflated too much in order to have a thin air cushion under your buttock if you want to still feel your bike and that you will have to wait till 2017 to see what product will replace SW Motech's one. It will be without me to test it.
Just to end with a realistic tone, I will now hand over to my posterior* and end this report like this :
Hi, I must confess that having my word in this article meant a lot to me because I support the weight of my pilot and this cushion is supposed to ease long rides after a lot of kilometers. I would say that between a comfort saddle and this cushion I might win about 100km before I convey a pain to my pilot through his spine.

My first experience with this cushion was hard because my pilot had inflated it way too much when he left SW. After a Paris-Fontainebleau ride I was under the impression of having lost the osmosis with my bike "Berthe".

The return journey was much better for me once some air was let out.

When we went to the Settons lake and all its bends and curves, I did not like the cushion at all. On the contrary, I finally enjoyed it when we went to Vannes via the trunk road or on the way to Cognac as well.

So, if I may say a few words to my pilot about this SW cushion, I will say YES for the long weary rides and even because my pilot keeps driving as long as there is fuel and only stops when his bike is thirsty. No use for me to say I need a break, he would not care.

Now dear colleagues I let you judge if this cushion may or may not make the number of kilometers more pleasant and whisper your opinion to your pilot.

Personally my driver and I are very happy our saddle BAGSTER on his motorcycle and Stop !

* Posterior : part of your body you can sit on. Syn : buttock, backside.