Sunday Ride Classic 2017
SRC 2017 : A ray of « Galarneau » as we say it in Quebec (a sunray in English)"
This end of the week / weekend was a mixed up of emotions for us ; between hesitation, joy and excitment.
Hesitation : Indeed ! The 9th edition of Sunday Ride Classic and the 40th edition of the Mans's 24H took place this past weekend. Between the two iconic events along with the two legendary tracks Sport Moteur International had to face a dilemma. After wondering a few minutes we booked our tickets for the Sunday Ride Classic 2017.

Joy : With the victory of David Checa (spanish), Niccolò Canepa (italien) and Mike Di Medlio (french) during the Mans's 24H with the GMT94's Yamaha. They're 19 seconds ahead of the YART's Yamaha R1, pretty impressive after a 24H race. Alongside with the Moto Club des Potes we used to keep a close eye on Christophe Guyot during his early stage on RC30 ; we even had access to his stand during the 1995 race (Read here). I, for have a distinct joy for this team and this result.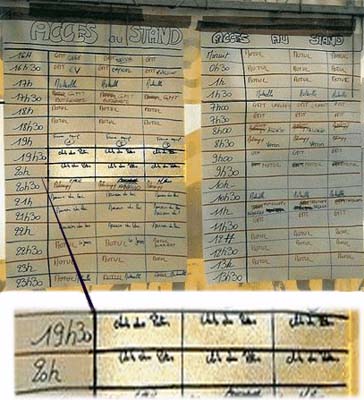 Excitment : Who remembers the time I used to presented "L'Evénement de l'année moto quad et scooter" by two passionates ; Stéphane Clair and Jean Pierre Bonato in 2011 at the Castellet ? No one !
Who remembers then that these two enthusiasts organized since 2002 the JPMS "Professional Days of the Motorcycle, Quad, SSV and Scooter" from Avignon to Montpellier then Lyon for several years finally arriving in Paris in 2015, for its latest edition. (Who knows, one day, they will come back with new JPMS).
But to return to our main topic ; Sunday Ride Classic 9th edition at Paul Ricard's track (3,6 miles).
Our article will have 3 axes this year ; I promose that we'll try to have 4 of them for next year.
As the first axe, we'll introduce you to Tontons Racer with who Bruno and I spent three days with. To be the closest to reality we brought our bags and slept in the paddock.. no hotel for us. We are living in a world where our passion take place on the tracks but in the paddock as well, their is no words to describe the atmosphere because you need to live it, hear the sounds of the machines resonated during the daytime and the laughs and the conversations taking over at night. Our nicknames ans colors are a mark of distinction especially in the old motorcycles and the Tontons Racers. Smoky Maryo, Nono the slap, Fred l'arsouille, Lover Phil, Anvil Arnaud, Alain the specialist, Krys the negotiator and it goes on and on. You could say that I'm doing it Audiard style but the Tontons Racers are not far from it.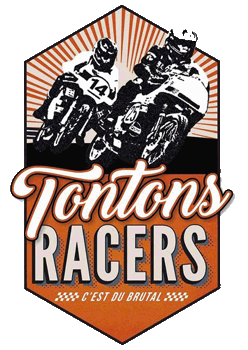 You have to see their barnum and the bikes aligned during these Sunday Ride Classic. Later in the season you will have a full presentation of this team, because there are some to tell. On Sunday Ride Classic 2017, we do not know where to start. Between two rolls where Alain tells us "I have rotted the mobile chicanes, including the others on the track, ...", or when Fred the arsouille starts his 250 Aermacchi Harley-Davidson and leaves us "I will Type a time of madness "and come back from her session and we go out" Put .. how she pushes, nobody passed me, .. "and reminding us that he was gone last
.

.

.

.

.

.

.

.

Fred l'arsouille

.

.

.

Alain the specialist

.

.

.

.

Lover Phil

.

.

.

.

Anvil Arnaud

.

.

.

Smoky Maryo

.

.
You figured that this team isn't like others ; it's a friends group (OUR BUDDIES) who are old school with a sharing spirit. Where nobody is an individualist because they all have their role pilots and pilots' wives, because when we see Ophelie holding the barnum on the circuits or like this weekend Stephanie came out with her pilou pilou at 2 o'clock the mast of his tent to express his discontent against the noise of the neighbors ... the list is too long but one thing is sure, this team will sink a lot of ink in the years to come and I think that this one will write in letter d'or its legend wherever it will pass.
The second axis of our report is to tell you about a meal or Arnaldo Wittemberg invited us.
Who is Arnaldo Wittemberg ? Everyone knows him he has been surfing the circuits for years with his tee-shirt stand but nobody knows that it is also the man who whispers in the ear of the champion like Giacomo Agostini dit Ago, Freddie Spencer and others ... He has just published a book of photos on Ago "My friend Ago" or some photos of my accomplice to International Motor Bruno Laurent Motor have been taken over, this book is a real nugget to leaf through with more than 600 photos of which many are unpublished.
.

.

.

.

.

.

.

.
Giacomo Agostini, the most rewarded rider in motorsports, was wrongly announced on certain social networks as stopping to run after theses SRCs; he declared "I am only 75 years old, I have come to celebrate the end of my pilote carrer after 40 years of end but I don't say goodbye ! Physically I'm great and I still have the thrill of riding, I'll have to stop one day but I haven't decided when to do so... When I started racing, I didn't know that I'll become 15 times world champion, 18 times champion of Italie, that I'll sign 311 wins and to won 123 Grand Prix. I am very happy, I like the Paul Ricard track, it is a fantastic circuit and has great organization, I have good memories of my victories with the MV Agusta and Yamaha, there is always a lot of people and I like to find familiar faces there. If I ever were a magician ? I would have the same life ...
Everything is said that everything that writes on the net is not always true truth !
This evening was a magical moment, you can see in this photo world while champions and numerous titles.
From Giacomo Agostini to Steve Baker to Freddie Spencer, Christian Sarron, Régis Laconi and Bernard Garcia, amongst others are drivers who have written beautiful pages in the great history of the motorcycle that are also the success of this 9th SRC.
.

.

.

.

.

.

.

.
What's extraordinary it's that these drivers are approchable, we spent an evening that will remain in our memories; to my right at the table I had Bernard Garcia a guy whom I liked to see running in the queen category: the 500 cm3 during the 1993 season on Yamaha, as well as the 1994 and the 1995 season. In 2007, with his brother Marc, also a former Grand Prix driver, he founded the 4G pilot school on track. An address that I strongly recommend.
I will also keep the happiness of trimming the bib with Freddie Spencer aka "Fast Freddy", three times world champion. He was the last driver to be World Champion during the same season in the categories 250 cm³ and 500 cm³, which built it's legend. I recommend his autobiography reading "Feel, my story" a book full of emotion, which I would like to one day to be autograph.
This evening was marked with laughter and anecdotes who are too numerous to tell it all, this photo album is more representative.
The third axe is surely the most touching for all readers and participants.
More than 24,000 passionate spectators have experienced the atmosphere of the Grands Prix Moto on the Plateau du Castellet. The opening to the public of motorcycle memory through these exhibitions as well as the access to the paddocks participates in the success of this event.
The presence of Johann Zarco and Loris Baz ignited this appointment.
Here is a crazy photo album from side-car to series where the pros enjoy themselves with amateurs but also some encounters.
.

.

.

.

.

.

.

.

.

.

.

.

.

.

.

.

.

.

.

.

.

.
Pretty good right !
To end before a PS thanks to Jean-Pierre Bonato, happy inventor and SRC's boss, who announces a Sunday Ride Classic 2018 even crazier than this year, with the return of the Grand Prix of France F1 which will restore the true international dimension to Paul Ricard circuit, the Sunday Ride Classic 2018 will enjoy an even stronger aura compares to the previous years.
Thanks to Stéphane Clair, Circuit Paul Ricard's director-general, whom helped the circuit to found the rythme of it great moments of legend back and it former greatness during the recent years.
Photos credit: Bruno Laurent et Bruno Pasqualaggi (Photo editing: Bruno Pasqualaggi)
A special mention to the secutity team ! In 2015, I wrote an article regarding my disappointment against them whom had forbidden me the track entrance even though I was a sponsor invitation holder during the Bol d'Or. During this 9th Sundary Ride Classic edition, I have been well surprised by the quality, the friendliness and professionalism of the security members often shadows men but so essential to the good flow of this kind of event. You can see that things can change with time, and just a hello or a thanks can make them feel good… As for me I just wanted to write it down here.
Thanks for the translation to virgine and Elora.
@ + Bruno Pasqualaggi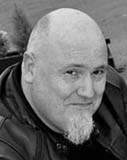 for Sport Motor International